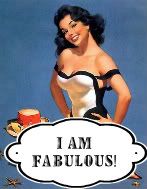 I know I'm a little late for the contest but still thought it would be fun to make a list.
My friend Kadi, (most of you already know her) just in case you don't www.wombattheinnsane.com
she is trying to promote self esteem. Here's what she has to say:
Too many women have self esteem issues. I have struggled with not feeling good enough, whether it be physically, mentally or whatever. We all struggle. However, it should not keep us from being able to look in the mirror and say, "I rock!"
What we are gonna do. We (that means you too) are going to do a blog post on why we love ourselves. Stop laughing, I'm serious. I want everyone to make a list of things that they like about themselves. If you have a daughter, show her your list, encourage her to do the same. Encourage your blog readers to do it. We need to promote self esteem. It is important to our emotional well being.
Ok, here I go....
Why I rock:
I'm a child of God
I have the best husband in the world!
I have the best kids in the world!
I have the best family and friends in the world!
I gave birth to 5 kids one being almost 10lbs
I make a good living right out of my own kitchen
I homeschool my kids and love it
I can multitask very well...doing it as we speak. (nursing, typing,helping Austin with math and watching a movie with Farrah begging for some of my water LOL)
I can type fast!
I take pictures of everything and journal all the time.
I can make garage sale furniture look fabulous:)
I can get ready in less than 5 minutes
I rocked almost 200lbs LOL
oh and I can blow a really big bubble:)
Austin has a pretty big head so he doesn't need help in the self esteem department but I will post Fabulous Faith's list tomorrow. I dare you to do the same.